WFH
The Direxion Work From Home ETF seeks investment results, before fees and expenses, that track the Solactive Remote Work Index. There is no guarantee that the fund will achieve its stated investment objective.
1 Day NAV Change
as of Sep 29, 2023
Overview
Fund Information
Fund Symbol
Intra-day Value
Benchmark Index
Security Identifier
Expense Ratio

(gross/net %)

Inception Date
WFH
WFH.IV
SOLWFHN
25460G773

0.45

/

0.45*

Jun 25, 2020
The Direxion Work From Home ETF offers exposure to companies across four technology pillars, allowing investors to gain exposure to those companies that stand to benefit from an increasingly flexible work environment. The four pillars include Cloud Technologies, Cybersecurity, Online Project and Document Management, and Remote Communications. Companies are selected for inclusion in the index by ARTIS, a proprietary natural language processing algorithm, which uses key words to evaluate large volumes of publicly available information, such as annual reports, business descriptions and financial news.
Uses advanced techniques to identify the 40 stocks accelerating greater adaption of remote work
Offers exposure to four pillars, across established and emerging technologies at the core of ongoing enterprise spend, that power the ability to work from anywhere efficiently and effectively
May be considered a satellite holding to complement other broader positions within a portfolio
Documents & Downloads
---
Target Index
The Solactive Remote Work Index (SOLWFHN) is comprised of U.S. listed securities and American Depository Receipts ("ADRs") of companies that provide products and services in at least one of the following business segments that facilitate the ability of people to work from home: remote communications, cyber security, online project and document management, and cloud computing technologies ("WFH Industries"). The Index consists of approximately 40 companies, namely, the top 10 ranked companies in each of the four WFH Industries. The Index is equal weighted at each semi-annual reconstitution and rebalance date. One cannot directly invest in an index.
Remote Work Trends By The Numbers
Trends toward a greater adoption of flexible work arrangements were already in motion prior to the COVD-19 pandemic, which has and may continue to accelerate adoption of technologies that enable remote work.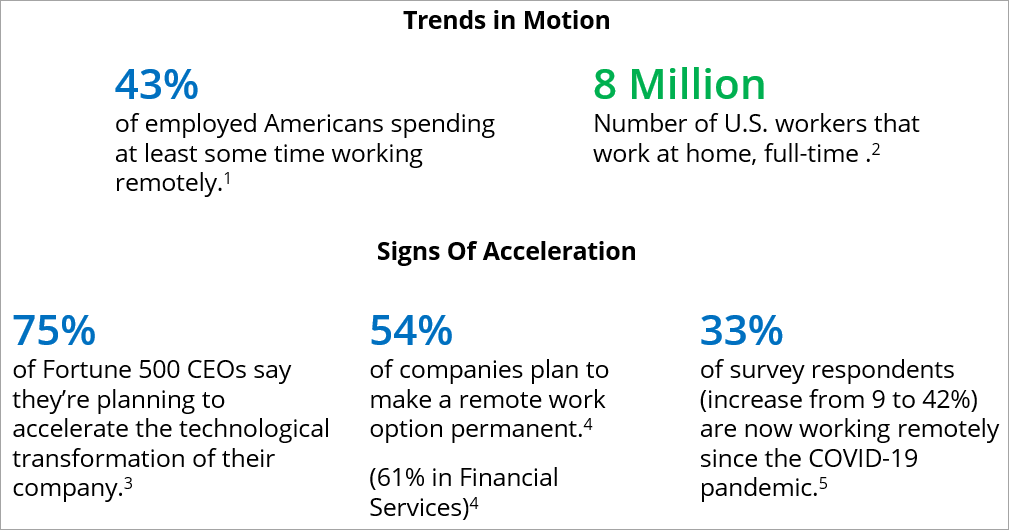 [1] Mann, and Adkins (2017): "America's Coming Workplace: Home Alone"
[2] Kopf (2019): "Slowly but surely, working at home is becoming more common"
[3] Fortune (2020): "Fortune 500 CEO Poll"
[4] PwC (2020): "COVID-19 CFO Pulse Survey"
[5] CNBC/Change Research (2020): "States of Play"
---
Pricing & Performance
NAV and Market Price information as of September 29, 2023. Line chart shows pricing trend over the last 30 days.
Net asset value (NAV)
47.56

NAV $

0.05

Change $

0.11

Change %
Market price closing
47.52

Market $

-0.01

Change $

-0.01

Change %
monthly
1M %
3M %
YTD %
1Y %
3Y %
5Y %
10Y %
Since Inception
Inception Date
Expense Ratio*
(Gross / Net %)
NAV
-2.39
5.48
25.96
6.71
-2.60
—
—
1.29
06/25/2020
0.45 / 0.45*
Market Close
-2.19
5.48
26.08
6.58
-2.67
—
—
1.28
As of August 31, 2023
quarterly
1M %
3M %
YTD %
1Y %
3Y %
5Y %
10Y %
Since Inception
Inception Date
Expense Ratio*
(Gross / Net %)
NAV
1.80
7.77
21.56
4.05
-0.54
—
—
0.17
06/25/2020
0.45 / 0.45*
Market Close
1.92
7.90
21.83
4.20
-0.56
—
—
0.21
SOLWFHN
1.82
7.86
21.83
4.36
-0.36
—
—
0.36
—
-
As of June 30, 2023
The Primary Listing Exchange is the NYSE Arca, Inc.
*The Fund's adviser, Rafferty Asset Management, LLC ("Rafferty") has entered into an Operating Services Agreement with the Fund. Under this Operating Services Agreement, Rafferty has contractually agreed to pay all expenses of the Fund as long as it is the advisor of the Fund other than the following: management fees, Rule 12b-1 distribution and/or service fees, taxes, swap financing and related costs, dividends or interest on short positions, other interest expenses, brokerage commissions, expenses incurred in connection with any merger or reorganization, acquired fund fees and expenses, and extraordinary expenses. If these expenses were included, the expense ratio would be higher.
The performance data quoted represents past performance. Past performance does not guarantee future results. The investment return and principal value of an investment will fluctuate. An investor's shares, when redeemed, may be worth more or less than their original cost. Current performance may be lower or higher than the performance quoted. Returns for performance under one year are cumulative, not annualized. For the most recent month-end performance please visit the fund's website at direxion.com.
Short-term performance, in particular, is not a good indication of the fund's future performance, and an investment should not be made based solely on returns. Because of ongoing market volatility, fund performance may be subject to substantial short-term changes. For additional information, see the fund's prospectus.
---
Distributions
| Record Date | Ex Date | Pay Date | Income Dividend | Short-Term Capital Gain | Long-Term Capital Gain |
| --- | --- | --- | --- | --- | --- |
| 09/20/2023 | 09/19/2023 | 09/26/2023 | 0.02733 | — | — |
| 12/21/2022 | 12/20/2022 | 12/28/2022 | 0.08898 | — | — |
| 09/21/2022 | 09/20/2022 | 09/27/2022 | 0.06818 | — | — |
| 06/23/2022 | 06/22/2022 | 06/29/2022 | 0.01244 | — | — |
| 03/23/2022 | 03/22/2022 | 03/29/2022 | 0.00169 | — | — |
| 12/22/2021 | 12/21/2021 | 12/29/2021 | 0.45588 | — | — |