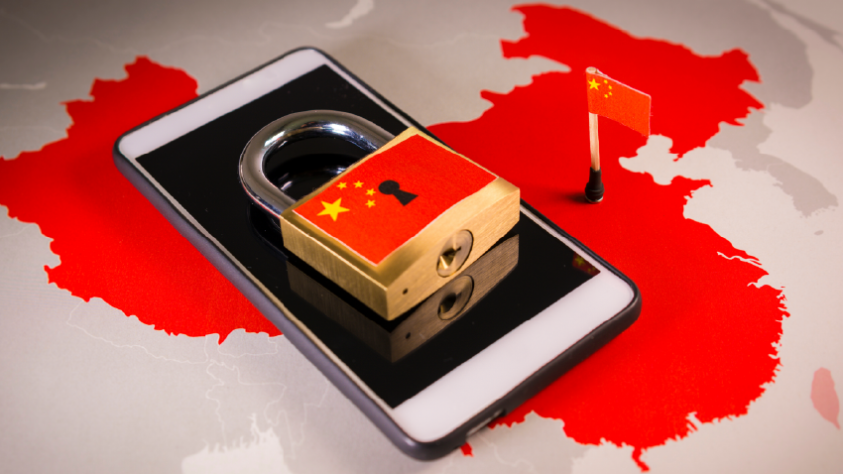 Editor's note: Any and all references to timeframes longer than one trading day are for purposes of market context only, and not recommendations of any holding timeframe. Daily rebalancing ETFs are not meant to be held unmonitored for long periods. If you don't have the resources, time or inclination to constantly monitor and manage your positions, leveraged ETFs are not for you.
After a regulatory crackdown on China-based internet giants that drove the Chinese Internet Index down over 70% from its February 2021 highs (as of 6/24/2022), the beleaguered sector has seen an impressive bounce and even recent relative strength versus US tech stocks.
Traders wanting to play a comeback can look to the Direxion Daily CSI China Internet Index Bull 2X Shares (CWEB).
Source: TradingView, Direxion Daily CSI China Internet Index Bull 2x Shares (CWEB) between April 11, 2022, and June 22, 2022.
Candlestick charts display the high, low (stick), open, and closing prices (body) of a security for a specific period. The performance data quoted represents past performance. Past performance does not guarantee future results. You cannot invest directly in an index.
The performance data quoted represents past performance. Past performance does not guarantee future results. The investment return and principal value of an investment will fluctuate. An investor's shares, when redeemed, may be worth more or less than their original cost; current performance may be lower or higher than the performance quoted. For the most recent month-end performance go to Direxion.com/etfs. For standardized performance click here.
Starting with the suspension of the Ant Group IPO in late 2020, the Chinese government has been on a regulatory crackdown on the technology industry for concerns of data privacy, income inequality, and worries of gaming addiction in children. New regulations, investigations, halted foreign IPOs, and even bans from app stores followed.
The crackdown came at the cost of making Chinese tech stocks toxic to most of the investing public for the better part of 18 months. But a change of tune in Beijing has some traders dumping US stocks for Chinese stocks.
The relative strength* of Chinese internet stocks is notable in what has been a challenging and volatile market for traders. It may just be a relief rally now that regulatory pressure on the sector appears to be abating. However, tail risks for China's economy, the world's second-largest, appear elevated at the moment, given the global economic uncertainty.
Chinese Internet Stocks vs. US Tech Stocks
Source: TradingView, performance of CSI China Internet Index* (black) vs. S&P 500* (orange) in percentage terms (right axis) between April 24, 2022, and June 24, 2022. The performance data quoted represents past performance. You cannot invest directly in an index.
Is Didi the Harbinger of a Breakout?
In April, Chinese internet stocks looked like they were trying to carve out a bottom amid positive comments from China's economic czar, the biggest video game license approval since last summer, and the announcement of a stimulus package for internet platform giants.
However, Chinese rideshare giant Didi continues to cloud the overall picture. The "Chinese Uber" was the target of multiple investigations for underpaying drivers and mishandling customer data, among other offenses.
Didi and other targets of investigations found their app delisted from app stores, all but killing short-term growth prospects until Beijing gave the all-clear on the crackdown ending.
The Chinese government concluded its investigation into the company, but their app is still not restored in Chinese app stores. Following Didi's delisting from the New York Stock Exchange in May, the stock was removed from the underlying index of the Direxion Daily CSI China Internet Index Bull 2X Shares (CWEB), and trading CWEB provides no direct exposure to Didi equity.
However, news on Didi is a major signal of the Chinese government's mood on the tech sector and could be a major catalyst for the sector.
From a technical perspective, Chinese internet stocks as a sector are currently sitting at the top of their multi-month range following the conclusion of the year-long downtrend. The restoration of Didi into the app store may serve as a final confirmation that "all is clear" regarding the tech crackdown, which could help the sector break out.
July 19th: The Fed vs. the PBOC
Another potential tailwind for Chinese stocks is the divergence between Chinese and US monetary policy amid the global economic slowdown. As the People's Bank of China (PBOC) is easing into the downturn with help from fiscal stimulus, the Federal Reserve is tightening to curb inflation.
The PBOC seems unconvinced by the Fed's recent ramp-up in hawkishness. It instead opted to leave rates unchanged in June, days after the Fed hiked 75 basis points,* with another 50 basis point rate hike expected in July.
Many expect the PBOC to continue in its dovish stance, anticipating cuts to rates and reserve requirements.
As inflation and recession fears reach a fever point in the US, the difference between the two countries' bond yields is tightening, putting the PBOC in the hot seat in its upcoming Tuesday, July 19 rate decision. Do they continue easing or pivot in fears of capital outflows now that US and China yields are converging?
Bearish bounce or sustainable bottom?
Many traders remain skeptical of piling into Chinese internet stocks just yet, especially since many believe that the Chinese tech industry is permanently inhibited following the government's regulatory crackdown.
After all, the book isn't closed on the tech crackdown, as evidenced by the apps of Didi and other companies remaining delisted from Chinese app stores.
Additional factors might be holding Chinese equities down, like the PBOC's tone and actions in their next rate decision, the threat of looming lockdowns from China's zero-COVID policy, and questions about the tech crackdown remain.
But after years of a "don't fight the Fed" narrative, there might be a desire to swim with the tide with Chinese equities that benefit from the more accommodative and more flexible PBOC than the Fed. This is all while carrying the additional tailwinds of potential positive catalysts like the conclusion of the tech crackdown, easing of COVID lockdowns, and an upcoming PBOC rate decision on Tuesday, July 19.
Traders wanting to express a bullish view on Chinese internet stocks can trade the Direxion Daily CSI China Internet Index Bull 2X Shares (CWEB), which seeks daily investment results, before fees and expenses, of 200% of the performance of the CSI Overseas China Internet Index.
Index Top Ten Holdings %
| | |
| --- | --- |
| Alibaba Group | 10.67 |
| Tencent Holdings | 10.50 |
| Baidu Class A | 7.66 |
| JD.com | 7.17 |
| Meituan | 6.73 |
| Kuaishou Technology | 4.70 |
| Netease Inc | 4.49 |
| Trip.com Group | 4.38 |
| Kanzhun | 4.26 |
| Pinduoduo Inc | 3.26 |
*Definitions:
Relative strength is a strategy used in momentum investing and in identifying value stocks. It focuses on investing in stocks or other investments that have performed well relative to the market as a whole or to a relevant benchmark.
The CSI China Internet Index is provided by China Securities Index Co., LTD and is designed to measure the performance of the investable universe of publicly traded China-based companies whose primary business or businesses are in the Internet and Internet-related sectors, as defined by the index sponsor, China Securities Index Co., Ltd.
The S&P 500, is a stock market index tracking the stock performance of 500 large companies listed on exchanges in the United States.
A basis point equals 1/100th of 1%.
Leveraged and Inverse ETFs pursue daily leveraged investment objectives which means they are riskier than alternatives which do not use leverage. They seek daily goals and should not be expected to track the underlying index over periods longer than one day. They are not suitable for all investors and should be utilized only by sophisticated investors who understand leverage risk and who actively manage their investments.
An investor should carefully consider a Fund's investment objective, risks, charges, and expenses before investing. A Fund's prospectus and summary prospectus contain this and other information about the Direxion Shares. To obtain a Fund's prospectus and summary prospectus call 866-476-7523 or visit our website at www.direxion.com. A Fund's prospectus and summary prospectus should be read carefully before investing.
The CSI Overseas China Internet Index ("Index") is calculated by China Securities Index Company ("CSI"). CSI does not make any warranties, express or implied, to any of their customers or anyone else regarding the accuracy or completeness of any data related to the Index. All information is provided for information purposes only. CSI accepts no liability for any errors or any loss arising from the use of information.
Direxion Shares Risks – An investment in the Fund involves risk, including the possible loss of principal. The Fund is non-diversified and includes risks associated with the Fund concentrating its investments in a particular industry, sector, or geographic region which can result in increased volatility. The use of derivatives such as swaps and futures contracts are subject to market risks that may cause their price to fluctuate over time. Risks of the Fund include Effects of Compounding and Market Volatility Risk, Leverage Risk, Market Risk, Market Disruption Risk, Aggressive Investment Techniques Risk, Counterparty Risk, Intra-Day Investment Risk, Daily Index Correlation/Tracking Risk, Other Investment Companies (including ETFs Risk), and risks specific to Chinese securities, such as Chinese Government Risk, and Chinese Markets Risk, Chinese Currency Risk. The Chinese economy is generally considered an emerging market and can be significantly affected by economic and political conditions and policy in China and surrounding Asian countries. The Chinese economy is export-driven and highly reliant on trade. Recent developments in relations between the United States and China have heightened concerns of increased tariffs and restrictions on trade between the two countries. Such increases could lead to a significant reduction in international trade, which could have a negative impact on China's export industry and a commensurately negative impact on the Fund.
Additional risks include, Consumer Discretionary Sector Risk, Emerging Markets Risk, and risks related to the Information Technology Sector and Internet Company Industry. The market prices of internet securities tend to exhibit a greater degree of market risk and sharp price fluctuations than other types of securities as these securities may fall in and out of favor with investors rapidly, which may cause sudden selling and dramatically lower market prices. Please see the summary and full prospectuses for a more complete description of these and other risks of the Fund.
Distributor: Foreside Fund Services, LLC.