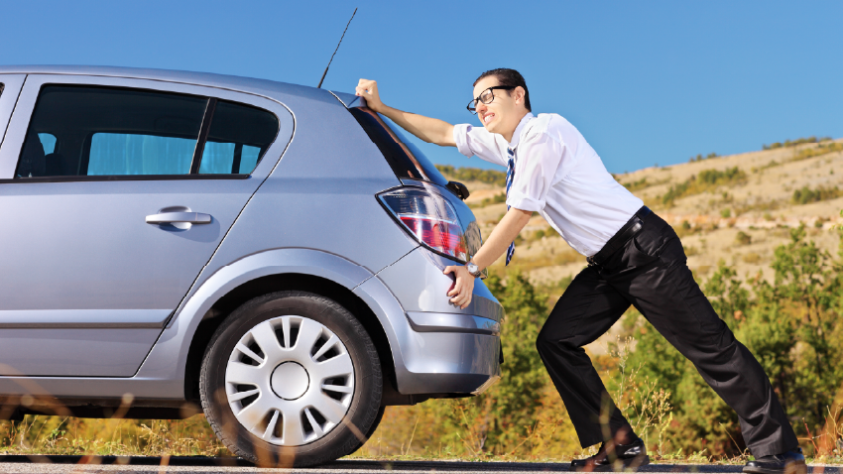 Editor's note: Any and all references to timeframes longer than one trading day are for purposes of market context only, and not recommendations of any holding timeframe. Daily rebalancing ETFs are not meant to be held unmonitored for long periods. If you don't have the resources, time or inclination to constantly monitor and manage your positions, leveraged ETFs are not for you.
In the face of plunging equity markets, oil displayed remarkable resilience. Until recently, that is. After hitting a high of $123.50/barrel on June 14, the front month West Texas Intermediate crude futures contact nosedived to under $110/barrel by June 17. Energy stocks, which had been a safe haven in the stock market carnage, declined precipitously along with crude.
For traders, the question now becomes whether this is the start of a new bearish trend for oil and energy shares, or if we've just seen a sharp correction in an ongoing bull market.
Big Bear Energy Vibes
Federal Reserve rate hikes, rising rates and inflation, and weak consumer sentiment are driving fears of a recession in the U.S. In this backdrop, there's a good argument to be made that economically sensitive commodity prices such as oil need to fall—and perhaps by a lot. A recession implies less driving by individuals and less consumption by businesses—potentially two big hits to demand.
Adding to the bearish case is the possibility that Chinese growth slows even further. On June 8, the World Bank cut its 2022 GDP growth estimate for the world's second-largest economy.
Troubles in China's real estate market might be the catalyst for renewed fears about an economic hard landing—and more pressure on oil prices given the importance of the country's consumption to world energy markets. In mid-June, Moody's said it had downgraded 91 high-yield Chinese property developers in the past nine months, which exceeded the number seen during the global financial crisis.*
Traders looking to make a bearish bet on oil and energy shares can express this view with the Daily Direxion Energy Bear 2X shares (ERY).
Chart: Crude Oil vs. the Energy Select Sector Index.**
Source: Stockcharts.com as of 06/17/2022
Candlestick charts display the high, low (stick), open, and closing prices (body) of a security for a specific period.
The performance data quoted represents past performance. Past performance does not guarantee future results. You cannot invest directly in an index.
Bull Energy Vibes
Oil and energy stocks could resume their surge if one or more key catalysts come to pass. For example:
The Russia-Ukraine war may continue to drag on, causing further worries about the stability of Russian oil supply. For instance, pressure may increase on the EU and other regions to impose boycotts of Russian oil, given that purchases of oil and natural gas by countries such as Germany are effectively helping to finance Putin's war. As a producer of over 9 million barrels of oil each day, a loss of Russian supply could send oil—and related shares—skyward again.
U.S. commercial crude inventories may continue to decline. Each Wednesday, the Energy Information Agency of the Department of Energy releases its storage update. With inventories already below the 5-year average, any further declines could cause crude prices to spike.
Traders looking to bet on a bullish summer for oil can profit by buying the Direxion Daily Energy Bull 2X Shares (ERX), which offers a leveraged play on the Energy Select Sector Index provided by S&P Dow Jones Indices.
Will oil bounce back after its recent drubbing, or is the recent decline a sign of more pain ahead? Only time will tell, but traders can potentially make gushing profits in either direction.

*https://www.cnbc.com/2022/06/17/moodys-china-real-estate-troubles-sent-debt-indicator-to-record-high.html
**The Energy Select Sector Index (IXETR) is provided by S&P Dow Jones Indices and includes domestic companies from the energy sector which includes the following industries: oil, gas and consumable fuels; and energy equipment and services.
Leveraged and Inverse ETFs pursue daily leveraged investment objectives which means they are riskier than alternatives which do not use leverage. They seek daily goals and should not be expected to track the underlying index over periods longer than one day. They are not suitable for all investors and should be utilized only by sophisticated investors who understand leverage risk and who actively manage their investments.
An investor should carefully consider a Fund's investment objective, risks, charges, and expenses before investing. A Fund's prospectus and summary prospectus contain this and other information about the Direxion Shares. To obtain a Fund's prospectus and summary prospectus call 866-476-7523 or visit our website at www.direxion.com. A Fund's prospectus and summary prospectus should be read carefully before investing.
The "Energy Select Sector Index" is a product of S&P Dow Jones Indices LLC ("SPDJI"), and has been licensed for use by Rafferty Asset Management, LLC ("Rafferty"). Standard & Poor's® and S&P® are registered trademarks of Standard & Poor's Financial Services LLC ("S&P"); Dow Jones® is a registered trademark of Dow Jones Trademark Holdings LLC ("Dow Jones"); and these trademarks have been licensed for use by SPDJI and sublicensed for certain purposes by Rafferty. Rafferty's ETFs are not sponsored, endorsed, sold or promoted by SPDJI, Dow Jones, S&P, their respective affiliates and none of such parties make any representation regarding the advisability of investing in such product(s) nor do they have any liability for any errors, omissions, or interruptions of the Energy Select Sector Index.
Direxion Shares Risks – An investment in each Fund involves risk, including the possible loss of principal. Each Fund is non-diversified and includes risks associated with the Funds' concentrating their investments in a particular industry, sector, or geographic region which can result in increased volatility. The use of derivatives such as futures contracts and swaps are subject to market risks that may cause their price to fluctuate over time. Risks of each Fund include Effects of Compounding and Market Volatility Risk, Leverage Risk, Market Risk, Counterparty Risk, Rebalancing Risk, Intra-Day Investment Risk, Other Investment Companies (including ETFs) Risk, and risks specific to investment in the securities of the Energy Sector. Companies that engage in energy-related businesses and companies primarily involved in the production and mining of coal, development and production of oil, gas and consumable fuels and provide drilling and other energy resources production and distribution related services are subject to risks of legislative or regulatory changes, adverse market conditions and/or increased competition affecting the energy sector.
Additional risks include, for the Direxion Daily Energy Bull 2X Shares, Daily Index Correlation Risk, and for the Direxion Daily Energy Bear 2X Shares, Daily Inverse Index Correlation Risk, and risks related to Shorting and Cash Transactions. Please see the summary and full prospectuses for a more complete description of these and other risks of each Fund.
Distributor: Foreside Fund Services, LLC.