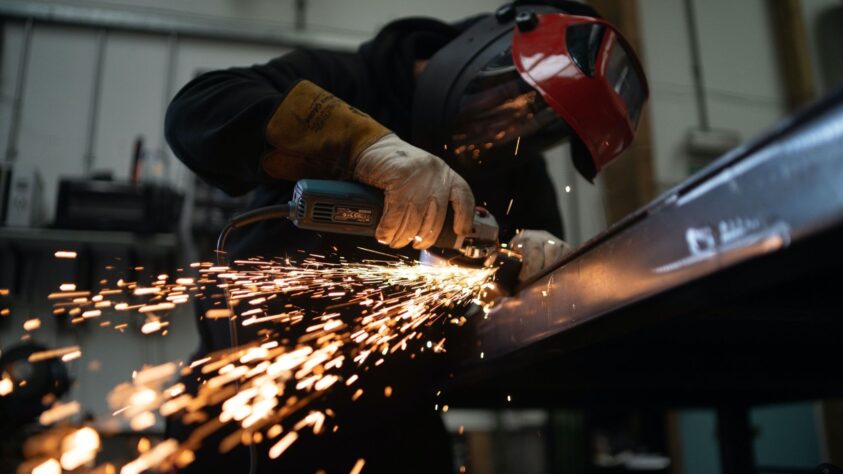 Photo by Josh Beech on Unsplash
Editor's note: Any and all references to timeframes longer than one trading day are for purposes of market context only, and not recommendations of any holding timeframe. Daily rebalancing ETFs are not meant to be held unmonitored for long periods. If you don't have the resources, time or inclination to constantly monitor and manage your positions, leveraged ETFs are not for you.
In this installment of Xchange, read why traders are anticipating the November release of the Manufacturing Purchasing Manager index, what the Manufacturing PMI is, what recent PMI readings have been, when the next PMI release is and how investors can trade the upcoming release with the Direxion DUSL 3x Leveraged Bull ETF.
What are Manufacturing PMIs and Why are They Important?
The humble manufacturing sector is home to what may be one of the most relied-upon leading economic indicators for assessing the state of the U.S. economy. Released monthly, the Purchasing Managers Index (PMI) is widely used by policymakers and business leaders alike to forecast changes in official economic data. It is also considered to be one of the most market-moving indicators released on a monthly basis. See previous articles on this topic: Can PMI and DUSL Manufacture a Win?
At its core, the PMI is a survey of managers and executives at private sector companies who answer questions regarding business output, new orders, employment, costs, selling prices, exports, purchasing activity, supplier performance, backlogs of orders, and inventories of both inputs and finished goods.
What Were Last Month's PMI Numbers?
September's PMI data from both ISM and IHS Markit was released on Oct. 1, 2021, with both indexes painting a positive picture of the manufacturing industry and its direction.
The IHS Markit PMI* posted 60.7 for September, slightly off of its 61.1 level in August. Though the month-over-month number remained almost flat, it did seem to indicate strength in the U.S. manufacturing sector even as supply chain and labor shortages caused the fastest uptick in backlogs of work on record.
On the other hand, the ISM Purchasing Managers Index** registered 61.1%, up 1.2 percentage points over August's 59.9% reading. All 10 of the sub-indices for the PMI remained above the equilibrium level of 50 with the indices for prices and new orders leading the way.
IHS Markit's Chief Business Economist, Chris Williamson, had the following to say, "The U.S. manufacturing sector continues to run hot, with demand once again racing well ahead of production capacity as firms report widespread issues with supply chains and the availability of labor." See previous articles on this topic: Can PMI and DUSL Manufacture a Win?
How Did Markets React to September's PMI Release?
When both PMI results were released, manufacturing and industrial sectors dropped, but as the trading day went along and the second more positive release from ISM hit the news, prices began to rebound, broadly speaking. In the premarket, futures were pointing to a weaker open that day, but the 9:45 AM EST release marked a low for the trading day.
The Direxion Daily Industrials Bull 3X Shares (DUSL)was a good example of this price action and finished the day up more than $2 off its low of $37.08 from earlier in the day.
Over the long-term, the correlation of industrial company performance and the ISM is only mostly positive, but price reaction on the days of release tend to be outsized, suggesting an opportunity for trading.
When Is the Next Manufacturing PMI Release and How Can You Trade It With the DUSL ETF?
As October's data is released on Monday, Nov. 1, traders may want to take a look at DUSL Industrials ETF. As October 13, the Relative Strength Index for DUSL remains neutral over various periods. The trailing volatility for the industrials index has tracked the market for the better part of the last year as well.
For the experienced trader who's looking for more risk and volatility, one option to take a position on the November 1 PMI numbers, is the Direxion Daily Industrials Bull 3X Shares ETFs (DUSL). DUSL seeks daily investment results, before fees and expenses, of 300% or 3X the performance of the Industrial Select Sector Index. There is no guarantee the fund will meet its stated investment objective.
*Purchasing Managers' Index™ (PMI™) data are compiled by IHS Markit for more than 40 economies worldwide. The monthly data are derived from surveys of senior executives at private sector companies and are available only via subscription. The PMI dataset features a headline number, which indicates the overall health of an economy, and sub-indices, which provide insights into other key economic drivers such as GDP, inflation, exports, capacity utilization, employment and inventories. The PMI data are used by financial and corporate professionals to better understand where economies and markets are headed, and to uncover opportunities.
** The ISM Purchasing Managers' Index (PMI) is an index of the prevailing direction of economic trends in the manufacturing and service sectors. It consists of a diffusion index that summarizes whether market conditions, as viewed by purchasing managers, are expanding, staying the same, or contracting. The purpose of the PMI is to provide information about current and future business conditions to company decision makers, analysts, and investors.
The performance data quoted represents past performance. Past performance does not guarantee future results. The investment return and principal value of an investment will fluctuate. An investor's shares, when redeemed, may be worth more or less than their original cost; current performance may be lower or higher than the performance quoted. Returns for performance for one year and under are cumulative, not annualized. Short term performance, in particular, is not a good indication of the fund's future performance, and an investment should not be made based solely on returns.
For the most recent standardized and month end performance click here.
An investor should carefully consider a Fund's investment objective, risks, charges, and expenses before investing. A Fund's prospectus and summary prospectus contain this and other information about the Direxion Shares. To obtain a Fund's prospectus and summary prospectus call 866-301-9214 or visit our website at www.direxion.com. A Fund's prospectus and summary prospectus should be read carefully before investing.
CUSIP Identifiers have been provided by CUSIP Global Services, managed on behalf of the American Bankers Association by Standard and Poor's Financial Services, LLC, and are not for use or dissemination in any manner that would serve as a substitute for a CUSIP service. The CUSIP Database, © 2011 American Bankers Association. "CUSIP" is a registered trademark of the American Bankers Association.
Shares of the Direxion Shares are bought and sold at market price (not NAV) and are not individually redeemed from a Fund. Market Price returns are based upon the midpoint of the bid/ask spread at 4:00 pm EST (when NAV is normally calculated) and do not represent the returns you would receive if you traded shares at other times. Brokerage commissions will reduce returns. Fund returns assume that dividends and capital gains distributions have been reinvested in the Fund at NAV. Some performance results reflect expense reimbursements or recoupments and fee waivers in effect during certain periods shown. Absent these reimbursements or recoupments and fee waivers, results would have been less favorable.
The "Industrials Select Sector Index" is a product of S&P Dow Jones Indices LLC ("SPDJI"), and has been licensed for use by Rafferty Asset Management, LLC ("Rafferty"). Standard & Poor's® and S&P® are registered trademarks of Standard & Poor's Financial Services LLC ("S&P"); Dow Jones® is a registered trademark of Dow Jones Trademark Holdings LLC ("Dow Jones"); and these trademarks have been licensed for use by SPDJI and sublicensed for certain purposes by Rafferty. Rafferty's ETFs are not sponsored, endorsed, sold or promoted by SPDJI, Dow Jones, S&P, their respective affiliates and none of such parties make any representation regarding the advisability of investing in such product(s) nor do they have any liability for any errors, omissions, or interruptions of the Industrials Select Sector Index.
Investing in a Direxion Shares ETF may be more volatile than investing in broadly diversified funds. The use of leverage by a Fund increases the risk to the Fund. The Direxion Shares ETFs are not suitable for all investors and should be utilized only by sophisticated investors who understand leverage risk, consequences of seeking daily leveraged investment results and intend to actively monitor and manage their investment.
Direxion Shares Risks – An investment in the Fund involves risk, including the possible loss of principal. The Fund is non-diversified and includes risks associated with the Fund concentrating its investments in a particular industry, sector, or geographic region which can result in increased volatility. The use of derivatives such as futures contracts and swaps are subject to market risks that may cause their price to fluctuate over time. Risks of the Fund include Effects of Compounding and Market Volatility Risk, Leverage Risk, Market Risk, Market Disruption Risk, Aggressive Investment Techniques Risk, Counterparty Risk, Intra-Day Investment Risk, Daily Index Correlation/Tracking Risk, Other Investment Companies (including ETFs) Risk, and risks specific to the securities of the Industrials Sector. Stock prices of issuers in the industrials sector are affected by supply and demand both for their specific product or service and for industrials sector products in general. Please see the summary and full prospectuses for a more complete description of these and other risks of the Fund.
Distributor: Foreside Fund Services, LLC.