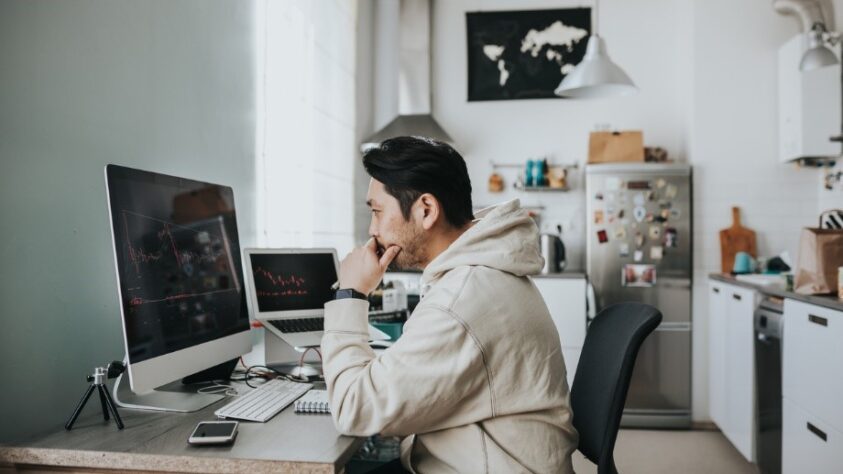 Editor's note: Any and all references to timeframes longer than one trading day are for purposes of market context only, and not recommendations of any holding timeframe. Daily rebalancing ETFs are not meant to be held unmonitored for long periods. If you don't have the resources, time or inclination to constantly monitor and manage your positions, leveraged ETFs are not for you.
Two large Chinese names Alibaba Group Holding Ltd, ($BABA) and Tencent Holdings ($TCEHY) have recently fallen to prices they haven't seen in over a year. Their 2021 selloff comes during a period of sweeping regulatory crackdowns from the Chinese government. Tightening policies and enforcement on everything from antitrust to technology and data have investors from western countries questioning whether China's economy can shake off its communist party roots. In this article we will review:
Table of Contents:
This type of regulation risk seems to be a reoccurring theme even as China's economy continues its precipitous rise through the global ranks. Ray Dalio argued, in a recent article he authored on LinkedIn, that western investors are misinterpreting China's shift in policy as anti-capitalist or anti-free market when in fact it is simply China doing what they've always done. Namely pursuing the development of capital markets and entrepreneurship with an overarching openness to foreign investment is their forte.
Referencing western investors, Dalio said, "They interpret moves like these two recent ones as the Communist Party leaders showing their true anti-capitalist stripes even though the trend over the last 40 years has clearly been so strongly toward developing a market economy with capital markets."
Nearly every time China's politicians make policy changes this type of fear, uncertainty and doubt rears its ugly head for a short time before receding to an eventual rebound in growth. Will this time be the same?
China Outlook: The Future of China
As an economy, China's outlook is quite rosy. Long term they look well-poised to become the No. 1 economy in the world within the next 10 years in terms of gross domestic product (GDP). See the chart below.
For informational purposes only. Forecasts are inherently limited and cannot be relied upon. Actual results may vary.
This steady growth in GDP can be attributed to China's systematic and persistent economic planning. Every 5 years the Chinese Communist Party (CCP) releases its initiatives for social and economic development over the next period. In their latest 5-year plan released earlier in 2021, the CCP indicated that promoting the development of imports and exports and raising the level of 2-way international investment continue to be a priority for them.
Clearly, the future looks promising, but with so many negative headlines swirling around and China's biggest names experiencing stiff headwinds, what is a trader to do?
In times of unpredictability, diversification may be a lifesaver. Rather than making concentrated plays in big Chinese names like Alibaba (BABA) and Tencent (TCEHY), a trader may look to trade a basket of securities that contains those large companies along with a plethora of other stocks. And if you're a trader who's looking for leverage – and risk, you may be looking for something bold.
Diversification does not ensure profits or prevent losses.
Why Direxion's Daily FTSE China Bull (NYSE: $YINN) and Bear (NYSE: $YANG) 3X Shares ETFs?
Enter Direxion's Daily FTSE China Bull (NYSE: YINN) and Bear (NYSE: YANG) 3X Shares ETFs. These exchange-traded funds (ETFs) track the FTSE China 50 Index which is a composite of the top 50 public companies traded on the Hong Kong Stock Exchange. With 3 times daily leverage, these ETFs can be traded in both a downward trending market and an upward trending one. This is an invaluable tool for traders trying to profit off the regulatory risk that many Chinese stocks are experiencing.
$YANG performance has been trending higher, in light of perceived regulation risk over the past few weeks. Will the tables turn once headline risks subside?
Cumulative Returns. Source: Bloomberg. Data represents past performance and does not guarantee future results. The investment return and principal value of an investment will fluctuate. An investor's shares, when redeemed, may be worth more or less than their original cost. Current performance may be lower or higher than the performance quoted. For standardized and month-end click here.
YINN & YANG Top 10 Index Holdings (as of 6/30/21)
| | |
| --- | --- |
| Alibaba Group | 9.64 |
| Meituan | 9.37 |
| Tencent | 8.81 |
| China Construction Bank | 5.87 |
| WUXI Biologics | 5.12 |
| PING An | 4.67 |
| JD.com | 4.55 |
| Xiaomi Corp | 4.13 |
| Industrial Commerc Bank China | 4.05 |
| Netease | 3.48 |
An investor should carefully consider a Fund's investment objective, risks, charges, and expenses before investing. A Fund's prospectus and summary prospectus contain this and other information about the Direxion Shares. To obtain a Fund's prospectus and summary prospectus call 866-476-7523 or visit our website at direxion.com. A Fund's prospectus and summary prospectus should be read carefully before investing.
CUSIP Identifiers have been provided by CUSIP Global Services, managed on behalf of the American Bankers Association by Standard and Poor's Financial Services, LLC, and are not for use or dissemination in any manner that would serve as a substitute for a CUSIP service. The CUSIP Database, ©2011 American Bankers Association. "CUSIP" is a registered trademark of the American Bankers Association.
Shares of the Direxion Shares are bought and sold at market price (not NAV) and are not individually redeemed from a Fund. Market Price returns are based upon the midpoint of the bid/ask spread at 4:00 pm EST (when NAV is normally calculated) and do not represent the returns you would receive if you traded shares at other times. Brokerage commissions will reduce returns. Fund returns assume that dividends and capital gains distributions have been reinvested in the Fund at NAV. Some performance results reflect expense reimbursements or recoupments and fee waivers in effect during certain periods shown. Absent these reimbursements or recoupments and fee waivers, results would have been less favorable.
Direxion Shares Risks – An investment in each Fund involves risk, including the possible loss of principal. Each Fund is non-diversified and includes risks associated with the Funds' concentrating their investments in a particular industry, sector, or geographic region which can result in increased volatility. The use of derivatives such as futures contracts and swaps are subject to market risks that may cause their price to fluctuate over time. Risks of each Fund include Effects of Compounding and Market Volatility Risk, Leverage Risk, Market Risk, Market Disruption Risk, Aggressive Investment Techniques Risk, Counterparty Risk, Intra-Day Investment Risk, risks specific to Chinese securities, including Chinese Government Risk, Chinese Markets Risk, Chinese Currency Risk, and Hong Kong Securities Risk.
The Chinese economy is generally considered an emerging market and can be significantly affected by economic and political conditions and policy in China and surrounding Asian countries. Securities from issuers in emerging markets face the potential for greater market volatility, lower trading volume, higher levels of inflation, political and economic instability, greater risk of market shutdown and more government limitations on foreign investments than typically found in more developed markets. Additional risks include, for the Direxion Daily FTSE China Bull 3X Shares, Daily Index Correlation/Tracking Risk and Other Investment Companies (including ETFs) Risk, and for the Direxion Daily FTSE China Bear 3X Shares, Daily Inverse Index Correlation/Tracking Risk, and risks related to Shorting and Cash Transactions. Please see the summary and full prospectuses for a more complete description of these and other risks of each Fund.
Distributor: Foreside Fund Services, LLC.