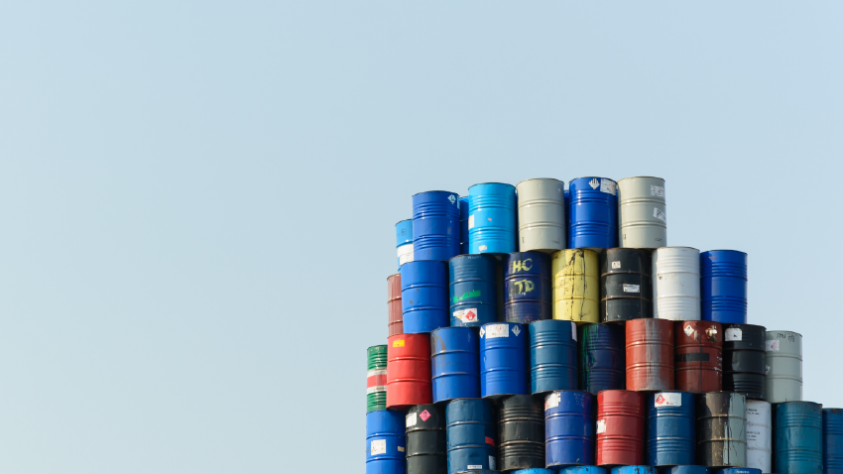 Editor's note: Any and all references to time frames longer than one trading day are for purposes of market context only, and not recommendations of any holding time frame. Daily rebalancing ETFs are not meant to be held unmonitored for long periods. If you don't have the resources, time or inclination to constantly monitor and manage your positions, leveraged and inverse ETFs are not for you.
Oil and equities often move together. Intuitively, this makes sense. Both are risk assets, and both get bought or sold by traders depending on the level of risk appetite in the market. What's more, economic fears of a recession tend to bring down both equity indexes and the price of crude oil.
So, the recent divergence is notable. The Dow lost over 1,000 points on Friday, spooked by U.S. Federal Reserve Chair Jerome Powell's hawkish Jackson Hole Speech. As for crude oil? It rose, despite the carnage in stocks.
Maybe we're seeing the start of a trend: Oil as risk-off asset with a negative correlation with equities. Then again, the market sometimes offers up the possibility of tantalizing divergences, only to pull the rug.
Source: StockCharts.com
Candlestick charts display the high, low (stick), open, and closing prices (body) of a security for a specific period.
The performance data quoted represents past performance. Past performance does not guarantee future results. The investment return and principal value of an investment will fluctuate. An investor's shares, when redeemed, may be worth more or less than their original cost; current performance may be lower or higher than the performance quoted. For the most recent month-end performance go to Direxion.com/etfs. For standardized performance click here.
With so many possible scenarios that could play out in the coming months, the oil & gas industry is poised to see more volatile patterns, even if it manages to maintain its overall upward momentum. For traders, having a couple of different plays in your back pocket to bring out in response to whatever happens to the market could be a good idea.
Direxion's Daily S&P Oil & Gas Exp. & Prod. Bull (GUSH) and Bear (DRIP) 2X Shares can help traders maintain that adaptability to a market that could become more volatile this year. Both track the S&P Oil & Gas Exploration & Production Select Industry Index (SPSIOPTR) and offer 200% daily leverage, or -200% daily leverage, respectively.
A GUSHing Case for the Bulls
The bull case for oil largely rests on supply. On the domestic front, the amount of oil held in the U.S. Strategic Petroleum Reserve (SPR) is at its lowest level since 1985.* This follows a 6-month planned release of 1 million barrels/day (which started in March) to lower energy costs in the face of Russia's war in Ukraine. In the short term, these releases weighed on prices. But as we near the end of the SPR drawdowns, the market anticipates that the additional supply will soon be a thing of the past.
SPR releases have led to commercial crude inventories being higher than they otherwise would have been. As a result, traders of oil stocks should closely monitor the weekly Energy Information Administration (EIA) storage report. Every Wednesday at 10:30am ET, the EIA releases its report on the level of U.S. commercial crude inventories. The data has surprisingly pointed to the downside recently, and a continuation of this trend would be music to the bulls' ears. Surprise builds in inventories, on the other hand, should pressure prices.
Meanwhile, on the foreign front, OPEC looks like it intends to support prices. Last week, Saudi Arabia signalled a willingness to cut production along with its cartel allies. This would help to counteract the increased supply that would come if Iran inks a nuclear deal with the West and increases its production and exports as a result. Traders should carefully watch OPEC's movements. The September 5th OPEC meeting saw the agreement to cut production by 100,000 barrels/day. Their decision will certainly effect oil & gas producers in the weeks to come.
Traders wanting to bet on higher crude oil prices leading to a bullish environment for exploration and production stocks in the weeks ahead can utilize the Direxion Daily S&P Oil & Gas Exp. & Prod. Bull 2X Shares (GUSH).
A DRIPping Case for the Bears
Oil's recent rally is impressive, but the bull case is no slam dunk. For one thing, part of the rationale for OPEC to curtail production is it expects the market to be in surplus this quarter due to reduced demand growth and rising supply from producers outside the cartel. Weak demand is the big problem. Whether it's a possible U.S. recession, faltering European economies, or a hard landing in China, global growth is not exactly on the ascent. The trading road is sure to be bumpy.
*https://www.reuters.com/business/energy/us-crude-spr-hits-lowest-level-since-january-1985-2022-08-22/
An investor should carefully consider a Fund's investment objective, risks, charges, and expenses before investing. A Fund's prospectus and summary prospectus contain this and other information about the Direxion Shares. To obtain a Fund's prospectus and summary prospectus call 866-476-7523 or visit our website at www.direxion.com. A Fund's prospectus and summary prospectus should be read carefully before investing.
The "S&P Oil & Gas Exploration & Production Select Industry Index" is a product of S&P Dow Jones Indices LLC ("SPDJI"), and has been licensed for use by Rafferty Asset Management, LLC ("Rafferty"). Standard & Poor's® and S&P® are registered trademarks of Standard & Poor's Financial Services LLC ("S&P"); Dow Jones® is a registered trademark of Dow Jones Trademark Holdings LLC ("Dow Jones"); and these trademarks have been licensed for use by SPDJI and sublicensed for certain purposes by Rafferty. Rafferty's ETFs are not sponsored, endorsed, sold or promoted by SPDJI, Dow Jones, S&P, their respective affiliates and none of such parties make any representation regarding the advisability of investing in such product(s) nor do they have any liability for any errors, omissions, or interruptions of the S&P Oil & Gas Exploration & Production Select Industry Index.
Investing in a Direxion Shares ETF may be more volatile than investing in broadly diversified funds. The use of leverage by a Fund increases the risk to the Fund. The Direxion Shares ETFs are not suitable for all investors and should be utilized only by sophisticated investors who understand leverage risk, consequences of seeking daily leveraged, or daily inverse leveraged, investment results and intend to actively monitor and manage their investment.
Direxion Shares Risks – An investment in each Fund involves risk, including the possible loss of principal. Each Fund is non-diversified and includes risks associated with the Funds' concentrating their investments in a particular industry, sector, or geography which can increase volatility. The use of derivatives such as futures contracts and swaps are subject to market risks that may cause their price to fluctuate over time. Risks of each Fund include Effects of Compounding and Market Volatility Risk, Leverage Risk, Market Risk, Counterparty Risk, Rebalancing Risk, Intra-Day Investment Risk, Other Investment Companies (including ETFs) Risk and risks specific to investment in the securities of the Oil and Gas Industry Risk and the Energy Sector. Companies in the oil and gas industry develop and produce crude oil and natural gas and provide drilling and other energy resources production and distribution related services. Stock prices for these types of companies are affected by supply and demand both for their specific product or services and for energy products in general. Additional risks include, for the Direxion Daily S&P Oil & Gas Exp. & Prod. Bull 2X Shares, Daily Index Correlation Risk, and for the Direxion Daily S&P Oil & Gas Exp. & Prod. Bear 2X Shares, Daily Inverse Index Correlation Risk, and risks related to Shorting and Cash Transactions. Please see the summary and full prospectuses for a more complete description of these and other risks of each Fund.
Distributor: Foreside Fund Services, LLC.